DAILY DIVERSIONS
Funny pictures
Magixl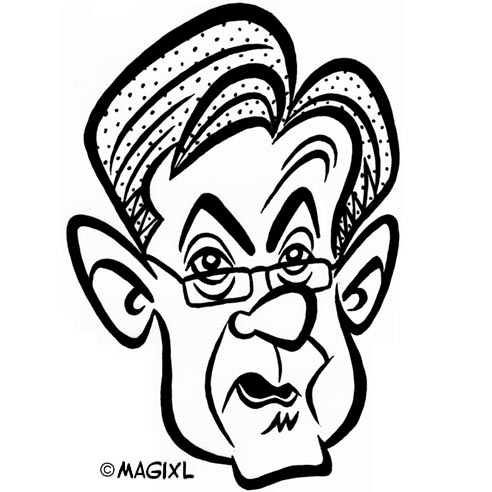 Caricature of the day
BuzzFeed - LOL Feed
If Tyrion Lannister Quotes Were Motivational Posters
"I am the god of tits and wine."
Which "Gossip Girl" Character Are You?
xoxo
CW
21 Times Dogs Were Kind Of The Worst
Man's best friend isn't always the best.
This dog who would prefer this reporter not humansplain his life.
Sororities On Instagram Vs. Sororities In Reality
Pi Beta Ph— I need a filter.
Recruitment on Instagram:
My sisters are the best!
There are a LOT of attitudes going on.
Flickr: quinnanya / Via Quinn Dombrowski
The rush room on Instagram:
Yayyy clapping and being so excited to start off recruitment.
The rush room in reality:
I have no idea what I'm going to talk to you about.
youtube.com / Via persephonemagazine.com
Which Witch From "The Craft" Are You?
We are the weirdos, mister.
Columbia Pictures
"Modern Family" Editor Live-Tweets Every Passenger's Worst Nightmare
Introducing Nadia, the "worst person in the world". Ryan Case told BuzzFeed News the woman was escorted away by police.
Modern Family
editor Ryan Case live-tweeted her flight on Sunday evening after claiming to have found herself sitting behind a quite belligerent passenger.
Case said she was on American Airlines Flight 185 from New York's JFK airport to LAX (Los Angeles International Airport) when she began tweeting mid-air about "Nadia", the obnoxious woman sitting in front of her.
Getty Images/Frazer Harrison
23 Of The Most Infuriating Brown People Problems
It ain't easy being brown. Thanks for bringing these issues to light, #BrownPeopleProblems .
This realisation.
Thinkstock / Via Twitter: @Kstau24
Fun conversations about your heritage.
vine.co / Via Twitter: @LoaizaNation
This sartorial no-no. :(
tayorps.tumblr.com / Via Twitter: @roccs
19 Mind-Blowing Facts About Life In Other Countries
Find out which country lets boys whip girls on Easter. (Inspired by these answers on Quora.)
In the Netherlands, school finishes at midday on Wednesdays.
It's intended so parents can spend more time with their primary school-aged children. Many employers allow parents to go home at midday on Wednesdays.
fan death
," i.e., that sleeping in a closed room containing a running electric fan will kill you.
Believers attribute fan death to hypothermia or asphyxiation, allegedly caused by the fan.
Residents fear belts will trap them in their vehicles if their cars fall off one of the country's plentiful 20,000-plus mountains.
On Easter Monday in Slovakia, it's tradition for boys to pour water over girls and whip them lightly with braided willow branches that have ribbons attached, in an event called šibačka. (The whipping is usually done lightly and symbolically.)
According to Czech Mate Diary: "If you were one of the first houses the mob visited, you were lucky: The guys are still kind of sober, kind of polite and kind of mellow. You let them into the living room – or better – just a hallway, give them some refreshments, offer them more vodka and let them "spank" you. If they still have their egg baskets, you would also stuff couple of eggs in them and if you are lucky they leave afterwards."
All Our Prayers Have Been Answered: John Oliver Made Fun Of Modi's Trip To Ne...
"Classic out-of-towner move. Comes to New York, stays a few days, and leaves with a slap-dash caricature done in the Times Square area."
As is the case with any major international political event nowadays, the best thing about Narendra Modi's much-talked-about trip to New York is, conclusively, John Oliver ripping it to shreds:
HBO / Via youtube.com
Watch the hilarious excerpt from "Last Week Tonight With John Oliver" in full here:
Via smash.com
34 People Who Managed To Screw Up Their One Job
Seriously, guys?
The restaurant worker who was supposed to alert everyone to the lack of Coke in the machine.
Your what is open 24 hours??
DAILY PICTURES
DAILY WEB TRENDS
DAILY ALMANAC
DAILY TOP NEWS
Other sites to visit
All pictures, graphics and logos used on this site are copyrighted to their respective owners | © W3streams.com