DAILY PICTURES
DAILY WEB MASH UP
DAILY ALMANAC
DAILY TOP NEWS
Other sites to visit
DAILY DIVERSIONS
Funny pictures
Magixl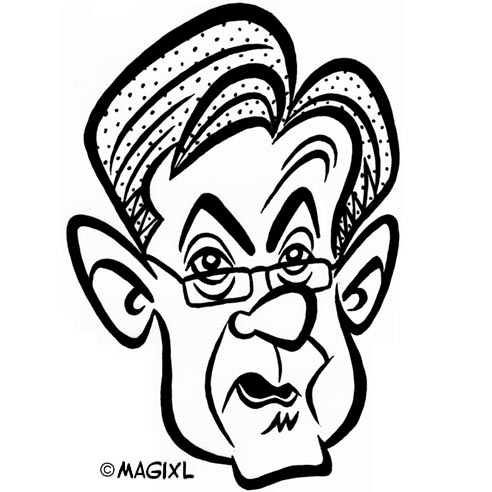 Caricature of the day
BuzzFeed - LOL Feed
This Is Quite Clearly How "Frozen" Should Have Ended
The How It Should Have Ended team have the right idea.
Beautiful.
Via youtube.com
Anyway, BRB. Just watching this for the 1,358th time.
Let's not forget that there's a Broadway show in the works, so this is sort of a taste.
26 Things Only Perpetually Tired People Will Understand
If I could, I would probably sleep all day long.
No matter how noisy it is, you can sleep through basically anything.
Nice try, but there's no way I'm waking up for that.
Oxygen / Via giphy.com
23 Things You Can Do To Immediately Annoy A British Person
We won't mention it, but we'll be really rather put out.
Asking someone from the North, "Is that near London?"
There are actually other places in the country. Some of them have cities, as well!
New Line Cinema / Via moviefancentral.com
Saying to a Scottish person, "Is that in England?"
Walt Disney Pictures / Via giphy.com
Saying to a Welsh person, "Is that in England?"
Universal / Via imgur.com
Saying to an Irish person, "Is that in England?"
Open Mike Productions / Via fuckyeahdaraobriain.tumblr.com
27 Things Clumsy People Simply Cannot Do
Can't be trusted to remain upright.
Can't handle curbs.
They are death traps.
Via imgur.com
Can't dance.
They are "I wish I were dead" traps.
Via imgur.com
Can't move ten feet without accidentally taking another object with you.
You are basically a human lint roller.
Via imgur.com
How Sweary Are You?
If any post was ever NSFW, it's this one.
Peter Griffin Has An Instagram Account Now
Welcome, Peterpumpkineater69 .
Yes, this really is his account.
"Happy anniversary to my wonderful wife! #uglysleeper #latergram"
"Look at this idiot. #loser"
How Much Of A Hippie Are You?
More hippies, less hipsters.
blue67 / thinkstock / Via thinkstockphotos.com
114 Thoughts Every Twentysomething Has During The Seder
Seriously, when does the food happen?
Flickr: grongar / Creative Commons
1. Hey, this isn't going to be so bad.
2. Aunt Adele made her brisket. Grandma made her kugel.
3. This could work out okay!
4. So when's the over/under until we can eat? 45 minutes? An hour?
5. Okay, maybe an hour and fifteen. But that's it. Tops.
6. Definitely.
7. Gotta get the right table here. Table selection is crucial.
8. [fingers crossed, please be anything but the kids table]
9. It's the kids table. It's always the kids table.
10. They know how old I am, right?
Flickr: kthread / Creative Commons
11. Nobody of normal height should have to sit at a table this small.
12. So how old are my cousins? 12 and 14?
13. What do teenagers talk about these days? Boys? One Direction?
14. Wait… does my 12-year-old cousin have an iPhone? AN iPHONE???
15. And she's on Instagram?
16. [sees how many likes one of her photos just got, dies]
17. How does a 12-year-old have this many Instagram followers?
18. Oh God, she's on Snapchat too.
19. I'm so old.
Adorable Baby Wakes Up Just In Time For The Bass Drop
Has anyone seen my glow sticks?
What started as a typical drive for one family quickly turned into the cutest dance party ever recorded.
Via youtube.com
Wait for it...
Via youtube.com
DANCE PARTY!!!!!
Via youtube.com
Which Deadly Creature Are You?
Float like a butterfly, sting like a bee.
What Should Your Signature Drink Be?
US Airways Just Tweeted Out One Of The Most Graphic Things You've Ever Seen A...
YIKES. This is very NSFW and US Airways is looking into what happened exactly.
And then on Monday, US Airways tweeted this...
All pictures, graphics and logos used on this site are copyrighted to their respective owners | © w3streams.com