DAILY PICTURES
DAILY WEB MASH UP
DAILY ALMANAC
DAILY TOP NEWS
Other sites to visit
DAILY DIVERSIONS
Optical illusion
Mighty Optical Illusions
Give Me a Squeeze Optical Illusion
Today is Easter Sunday, which is a holiday that a lot of people out there celebrate. I would just like to wish each and everyone of you out there a happy Easter. If you don't celebrate Easter, I hope you have an equally great day. We don't judge people here at MoIllusions, but we do want everyone to have an amazing day :).
Today, I have a pretty cool optical illusion that was sent in to me by a user. This optical illusion comes in the form of a t-shirt that someone very creative designed and I have to say that it's a pretty cool effect. As a matter of fact, I wish I had a t-shirt like the man is wearing in the image below. Are you ready to check out the amazing shirt? If so, you can go ahead and scroll down.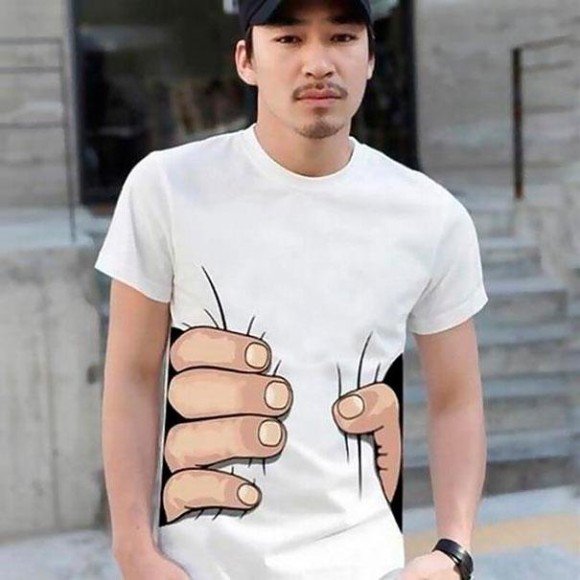 I don't know about you, but I would totally wear this cool shirt. Would you wear it? Do you think it's a cool optical illusion shirt? If so, you should leave a comment below and let us know what you think.
Are you still hungry for another optical illusion? Well, I think you should check out this illusion that is closer than you think.
The post Give Me a Squeeze Optical Illusion appeared first on Mighty Optical Illusions.
An Optical Illusion
Trippy Hallucination Video
Upon playing this video, the introduction warns the viewer as follows:
Be aware!  This video may cause temporary hallucinogenic effects.  But please do not be afraid, these effects usually last a few seconds.
The warning is overly dramatic, but it does produce a pretty amazing effect.  And in case you are worried, rest assured that this is not some sort of joke or trick where a scary face will pop up on the screen screaming at you in an effort to make you fall from your chair.  If you do happen to think these are funny, however, you can watch a couple of kids getting scared by one here.
When I tried it, everything I looked at for a few seconds was swirling around like crazy.  Did it work for you?
More pictures
All pictures, graphics and logos used on this site are copyrighted to their respective owners | © w3streams.com