DAILY DIVERSIONS
Optical illusion
Mighty Optical Illusions
Hidden Apple Children Optical Illusion
Moillusions.com
Happy Halloween everyone! Hope you all have a lot of fun today, and celebrate Halloween in a really fun and safe way! Halloween is all about dressing up, candy, and its tons of fun for kids, so they are the subject of today's optical illusion.  Take a look at this image of a simple apple, and do you happen to notice something about the apple? Now, while it is true that there are seeds in the center of the apple, that is not what the illusion is all about, as some of you may think. If you all look closely around the edges of the apple, you will see the silhouettes of two children. Do you see them?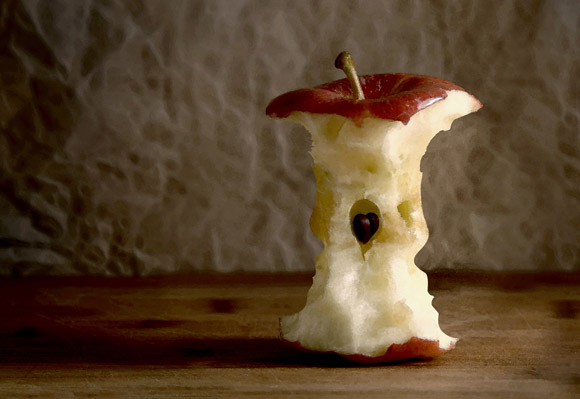 Ready for some more optical illusions? The weather is getting cooler, and going to the beach is not going to be possible for much longer. To honor the fun of being at the beach, we have some great sand sculptures for you all to enjoy! Take a look at these amazing sandy works of art. It's amazing what people can create out of sand, and these sculptures really do look very life-like! We know you all are going to have a blast today, and we hope you have a very safe and Happy Halloween!
The post Hidden Apple Children Optical Illusion appeared first on Mighty Optical Illusions.
An Optical Illusion
Bridge to Eternity by Gianni Sarcone
Anopticalillusion.com
In honor of Halloween,  I thought it would be appropriate to post an image today that featured a dark or spooky theme.  This morning, as I was checking my email, I found a message from Gianni Sarcone with a link to a Behance page he created titled Just in Time for Halloween.  The page features two originals that he created, including the one posted below titled Bridge to Eternity.  While it looks like a peaceful scene of a creek and a bridge, a very sinister hidden image can also be found in this picture.  Can you find it?
For more optical illusions appropriate for Halloween, be sure to revisit the Vintage Skull Afterimage and the Cat and Mouse Optical Illusion.
More pictures
TOP NEWS
TOP TRENDS
ALMANAC
PICTURE OF THE DAY
All pictures, graphics and logos used on this site are copyrighted to their respective owners | © W3streams.com