DAILY PICTURES
DAILY DIVERSIONS
DAILY WEB MASH UP
DAILY ALMANAC
DAILY TOP NEWS
Other sites to visit
Nature and Animals
Botany Photo of the Day
Ipomoea purpurea
13 Sep 2014
Today we have an entry written by Taisha prior to her departure. Taisha wrote:
Ipomoea purpurea, or the common morning glory, is photographed here by Hugh Nourse (aka Hugh and Carol Nourse@Flickr). This photo was taken last month along the Blue Ridge Parkway in North Carolina. Many thanks for sharing, Hugh!
The bindweed or morning-glory family consists of over 1600 species, including Ipomoea ...
Animal of the day
Pallid Needle-clawed Galago - African Glider of the Forest
11 Sep 2014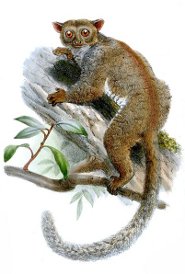 The pallid needle-clawed galago (Euoticus pallidus) is also known as the Northern needle-clawed bushbaby. This small primate lives in the forests of the African countries of Nigeria, Cameroon, Congo, Gabon and Equatorial Guinea. It relies on living in the treetops. If African forests continue to be decimated, then the pallid needle-clawed galago will become extinct in the wild. Currently, this ...
dailypuppy.com
Ollie-the-Australian-Labradoodle
17 Sep 2014
Ollie is lovable and already knows come, sit, down, stay, touch, and bang. He loves to play fetch and lie in the sun. He is just so smart and the sweetest little boy. He is named after Oliver Queen, the "Green Arrow".
Click for more pictures and comments...
dailykitten.com
Jonsi
17 Sep 2014
Time to meet today's Star Kit, Jonsi. He is 5 months old from the streets of London.

On the 18th May 2014, we heard screaming outside. We thought something happened to one of our cats (at that point we had 4) and run outside, only to discover a tiny kitten walking towards us, crying. It was a really hot day and he was clearly distressed. I picked him up, checked around to see if mom was aroun...
goodmorningkitten.com
Ziggy [3] - September 17, 2014
17 Sep 2014

Ziggy [3]
Gribb0 says: This is my lovely Bengal boy Ziggy. He is a real bundle of fun and always into mischief. His favourite pastime is chasing my moggies, Gertie and Spike. When he first arrived he growled like a wild cat at them but they have now realised that he is a softy and it was all show. When he isn't bouncing off the walls, Ziggy likes to curl up in his bed for a snooze.
Courtesy of: G...
Daily Nature Photo -- The Nature Conservancy
The Bucegi Mountains
17 Sep 2014
The Bucegi Mountains
Flickr User: Sorin Mutu

D...
More feeds
All pictures, graphics and logos used on this site are copyrighted to their respective owners | © W3streams.com