DAILY PICTURES
DAILY DIVERSIONS
DAILY WEB MASH UP
DAILY ALMANAC
DAILY TOP NEWS
Other sites to visit
Nature
Botany Photo of the Day
Viscum album subsp. abietis and Abies alba
6 Dec 2013
Again, scribed by Taisha. She writes:
Frost and crisp air have greeted me the past few mornings when starting my commute to UBC, two signs in these early days of December that the holidays are approaching. Around the city, empty lots are being turned into temporary sites for Christmas tree sales, lights are being strung up, and wreaths are being hung upon doors. In the spirit of the holidays,...
Animal of the day
Greater Bulldog Bat - the Fisherman
6 Dec 2013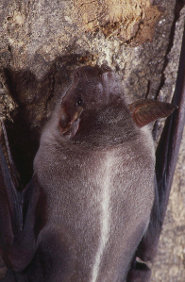 The Greater bulldog bat (Noctilio leporinus) is nature's fisherman. Using its amazing echolocation ability, the bat finds fish by detecting ripples in the water made by those fish. Once the bat locates the fish, it dives down, catching the fish in the ample pouch located between its legs, holding on to the catch with its claws. The Greater bulldog bat is also known for emitting a high frequency...
The Daily Puppy | Pictures of Puppies
Sophie-the-Saint-Bernard-Mix
7 Dec 2013

Sophie is a ball of energy. She loves to play with her dolls. She also loves cuddling during naps and giving kisses to everyone. She's extremely gentle with children and babies. She just experienced her first snowfall and loved eating it during her walks!

Click for more pictures and comments...
dailykitten.com
Milo
6 Dec 2013
Location: Pittsburgh, Pennsylvania, USA
I was walking my dog early one Sunday morning and spotted a small black furball in the street. It was looking at me with big yellow eyes! It was a kitten, all alone, four weeks old and one pound. The dog's barking frightened him under a car, and it took a neighbor and me ages to lure him out into the open with bits of hotdog and cheese. I caught him, and...
goodmorningkitten.com
Silas [redux] - December 07, 2013
7 Dec 2013

Silas [redux]
Candi says: I found little baby abandoned Silas at my work place. I could not believe that someone could toss out the most perfect little kitten in a parking lot! He was so tiny, just fluff and bones, and I thought he was going to be a wild little kitten. But once I got him home, he hopped on my shoulder and purred and purred! It was pretty much instant love with this little guy. H...
my.nature.org
Caterpillars
7 Dec 2013
Caterpillars
Flickr User: derbybees

Discuss th...
More feeds
News Photos
National Geographic News
Photos: Ancient Tomb of Chimú Nobles Found in Peru
3 Dec 2013
All pictures, graphics and logos used on this site are copyrighted to their respective owners | © w3streams.com