DAILY PICTURES
DAILY DIVERSIONS
DAILY WEB MASH UP
DAILY ALMANAC
DAILY TOP NEWS
Nature
Botany Photo of the Day
Ficus carica 'Brown Turkey'
Taisha is both the photographer and author of today's entry. She writes:
Today's photographs of Ficus carica 'Brown Turkey', or the 'Brown Turkey' common fig, were taken in UBC Botanical Garden's Food Garden. The Garden currently has two fig trees (the other is Ficus carica 'Desert King'). Both trees are espaliered, and currently in flower. 'Brown Turkey' and 'Desert King' are the two common...
Animal of the day
Mantled Howler - The Noisemaker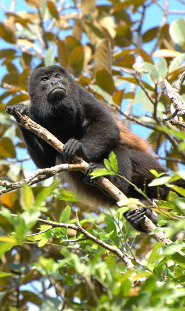 The Mantled Howler (Alouatta palliata), also called the Golden-mantled Howling Monkey, is a species of new world monkey in the howler monkey genus Alouatta. Their binomial name is Alouatta palliata, and they are a species that is of least concern on the IUCN redlist, meaning their populations are stable or growing (in the Alouatta palliata palliata subspecies and most common), unlike some of t...
The Daily Puppy | Pictures of Puppies
Hunter-the-Irish-Jack-Russell

Hunter is a 9 week old Irish Jack Russell, and has only been with his new parents for about a week! He has had a lot of fun and exciting new experiences, but he likes nothing more than a good chew toy and a lot of naps. He can't wait until he's old enough to go outside and make some new friends.

Click for more pictures and comments...
dailykitten.com
LilBit
Location: Denver, Colorado, USA
I lost my wonderful Orangie, Loki, to cancer in February. In April, I found this 3- week old Creamsicle guy. His eyes were blue and he was wobbly. He wasn't interested in KMR so I gave him wet kitten food. It took him a while but he ate it all. Now he's eating and rip snorting around like a champ. I love him very much and he suffers through kissy face many times...
goodmorningkitten.com
Olga and Elliasz's Kittens: Blå Djevel [redux] - May 24, 2013

Olga and Elliasz's Kittens: Blå Djevel [redux]
Pieter and Renée say: Last but not least, the absolute clown of this gang -- Titran's Blå Djevel! Big blue boy kitten looking very much like an angel with his pretty face, extra large lynx tufts on his ears, and this thick kitten coat.
Always the first to try out things, Blå Djevel has developed a very close relationship with... yes... our rob...
my.nature.org
Chickadee
Chickadee
Flickr User: 1ladybug

Discuss the Ph...
Wildlife Photography Blog
Shocking Rhino Poaching Statistics

On 25 April, the Dept of Environmental Affairs reported that 249 rhinos had been poached in South Africa since the beginning of the year. In its latest report, dated 30 April, the figure has soared to 273!
That's another 24 rhinos killed for their horns in less than a week. According to Environmental Affairs, "The Kruger National Park continues to bear the brunt of rhino poaching, with the num...
More feeds
In the news
National Geographic News
Pictures: Seven Energy-Smart Zoos and Aquariums
24 May 2013
Pictures: Top 10 Newly Discovered Species of 2012
24 May 2013
Your Pictures: The Oklahoma Tornado
21 May 2013
Oklahoma Tornado Pictures: 2-Mile Twister Destroys Town
21 May 2013
Other sites to visit
All pictures, graphics and logos used on this site are copyrighted to their respective owners | © w3streams.com