DAILY PICTURES
DAILY DIVERSIONS
DAILY WEB MASH UP
DAILY ALMANAC
DAILY TOP NEWS
Other sites to visit
Nature and Animals
Botany Photo of the Day
Themeda triandra
29 Aug 2014
Taisha completes the series on South African plants and biomes with this entry. It is also her last official day as a work-learn student with Botany Photo of the Day, though there are about a half-dozen other entries she has written that will be posted while the new students learn the ropes. Thank you, Taisha. She writes:
Today we feature the grasslands biome of South Africa with photographs ...
Animal of the day
Tapeti - a Cottontail friend
25 Aug 2014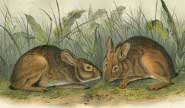 The Tapeti (Sylvilagus brasiliensis), otherwise known as a forest rabbit are found in countries including; Argentina, Brazil, Belize, Bolivia, Honduras, Mexico, Venezuela, Peru and Panama. When full grown, these mammals can be anywhere from 9-17 inches (22-43 cm) long. They weigh about 1.5 - 2.2 lbs (0.7 - 1 Kgs) and can live up to three years. Although males are usually a bit smaller than the ...
dailypuppy.com
Nala-the-Maltese-Mix
2 Sep 2014
Nala is a maltese / poodle mix living in Los Angeles. She is a love bug and full of energy. She loves to play with every human and doggie that she sees, even doggies who are much bigger than she is! Her favorite activities are playing with her toys (her favorite is her Kermit the Frog doll), basking in the Southern Californian sun, making new friends on at the doggy beach, and being spoiled by ...
dailykitten.com
Otis
2 Sep 2014
I would like you all to meet today's Star Kit, Otis. He is 4 months old from Scotland.

He's the biggest mummy's boy loves kisses and cuddles.
goodmorningkitten.com
Liza and Vicky's Girls [3] - September 02, 2014
2 Sep 2014

Liza and Vicky's Girls [3]
Peter says: Liza and Vicky are Devon Rex cats owned by my friend Marie of Fennec's Cattery. They had litters four days apart -- by the same father -- and raised them together. Out of nine kittens total, four were girls. All the girls were tortoiseshell with silver as a ground colour, thanks to their father, Silverado, a black silver mackarel tabby from the U.S. Among...
Daily Nature Photo -- The Nature Conservancy
Sunday Stroll
31 Aug 2014
Sunday Stroll
Flickr User: Ashley Harrigan

Dis...
More feeds
All pictures, graphics and logos used on this site are copyrighted to their respective owners | © w3streams.com