DAILY PICTURES
DAILY DIVERSIONS
DAILY WEB MASH UP
DAILY ALMANAC
DAILY TOP NEWS
Other sites to visit
Nature and Animals
Botany Photo of the Day
Delphinium luteum
18 Apr 2014
Another entry from Taisha today, who writes:
Delphinium luteum, known commonly as the yellow larkspur, is photographed here accompanied by an Anna's hummingbird (Calypte anna). This capture was submitted to the Botany Photo of the Day Flickr Pool by frequent contributor Sandy Steinman@Flickr. This photo was taken on April 11 in Regional Parks Botanic Garden in Berkeley California. Thanks for s...
Animal of the day
The Black Duiker - little diving antelope
7 Apr 2014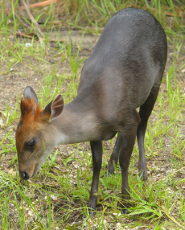 The Black duiker (Cephalophus niger) is a small antelope that lives in West Africa, primarily in the coastal countries of Guinea through Nigeria. The average black duiker is only 32 inches (81 cm.) long, 18 inches (45 cm.) tall at the shoulder, and weighs 40 pounds (18 kg.). It makes its home in dense, lowland rainforests or shrublands. This habitat is important to the black duiker as it provid...
dailykitten.com
Sophie
18 Apr 2014
Introducing Sophie, the twin sister of Zoey (yesterdays Star Kit). Like her sister she is a 13 week old Domestic Short Hair.

We adopted Sophie along with her sister Zoey from a shelter after our beloved cat passed away recently. They are so fun to watch as they run around the house. Sophie's favorite thing to do is drink out of the toilet when no one is looking. She loves our toy poodle,Aspen...
goodmorningkitten.com
Kittens Living in Allentown [redux] - April 19, 2014
19 Apr 2014

Kittens Living in Allentown [redux]
gilfisher1 says: These kittens are a litter of five that was born in an abandoned house nearby. We caught the feral mother, had her spayed, and rereleased her into the neighborhood. We cared for the kittens with the plan to find homes for then when they were ready. Monty, the little grey runt of the litter, was very sickly and lethargic but my wife gave him ex...
Daily Nature Photo -- The Nature Conservancy
Light
19 Apr 2014
Light
Flickr User: Lana Gramlich

Discuss the P...
More feeds
News Photos
National Geographic News
Best Space Pictures: Blood Moon, Auroras, and Rover Tracks
18 Apr 2014
All pictures, graphics and logos used on this site are copyrighted to their respective owners | © w3streams.com