DAILY PICTURES
DAILY DIVERSIONS
DAILY WEB MASH UP
DAILY ALMANAC
DAILY TOP NEWS
Other sites to visit
Photo sharing sites
Kodak Picture of the Day
th...
Tuesday, 29 Jul 2014
The Cellar - Image of the Day
A new dude in town, Dewi Dragon... Quote: Harlech Castle was constructed atop a spur of rock next to the Irish Sea by Edward I of England to seal his victory over Llywelyn ap Gruffudd, the last sovereign Prince of Wales. Although the sea has retreated and no longer protects the castle a new guardian has recently arrived. Where water once protected Harlech, now it is fire. Dewi the Dragon, resplendent in his scaly coat of steel, is the new sentinel of the still magnificent medieval castle and guards the town's inhabitants from harm.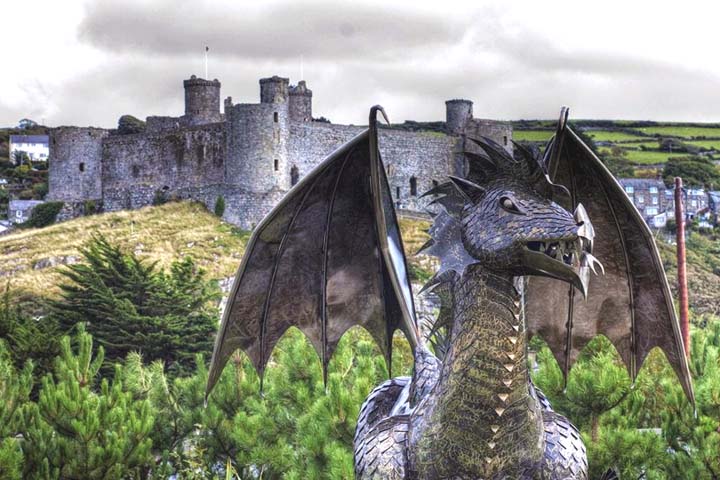 Kuriositas explains the Red Dragon has come to represent all things welch, then goes on... Quote: There was no pressure, then, on artist Anthony Peacock, who was commissioned to create Dewi in 2010. However, the piece is a triumph, made from 78 square meters of steel sheets which were first cut in to scale shapes. These were then welded on to a frame and polished, measuring in at 16 foot long, 11ft high and 10ft wide. Finally a total of twelve coats of lacquer were applied. All told almost 800 hours of work went in to fashioning this magnificent beast. If Llywelyn had had a dragon like this on side, the castle would quite probably never have been built.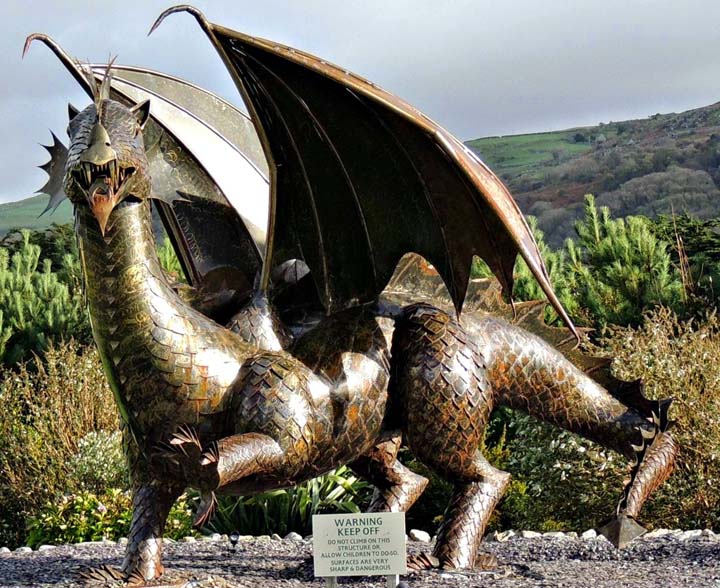 And another one of those signs we wish they didn't have to post, but know they do. :( Quote: He now stands at the entrance to Min-y-Don Holiday Home and Touring Park, which might make you think that poor Dewi has become some kind of trailer trash titan but the park has won many awards and is right next to the town's golf course: Dewi is, if anything, something of a posh dragon. As with many Welsh names which to English ears are just so many syllables – Min-y-Don translates in to something quite lovely – the sound of the sea or, alternatively, the edge of the waves. The Kuriositas link above has a lot more pictures and some of the Welsh/English history, heads on pikes, and how an Englishman or Scot can be the Prince of Wales.
7-27-14: Dewi Dragon
FWAPhoto
Rune Bendiksen - Norway
a epic Photo of norwegian Nature
@photooftheday - WEBSTA
- 19 jun 2014 Winner @stewyiscool Judge @luka04 Focus @useroftheday Help y...
@photooftheday
- 19 jun 2014 Winner @stewyiscool Judge @luka04 Focus @useroftheday Help your teen stay focused on the road ahead, instead of on their cell phone. Protect them - for free - with @Esurance #DriveSafe™!
9102
106
#drivesafe, »WEBSTA
Photo of the Day
Bonding
Wikimedia Commons picture of the day feed
Wikimedia Commons picture of the day for July 29
Picture of the day
Puffin (Fratercula arctica) at Latrabjarg, Iceland.  
Wikimedia Commons media of the day feed
Wikimedia Commons media of the day for July 29
Media of the day
Play media Gaganchukki falls, Shivanasamudram, Karnataka, India   Problems playing the file?
More pictures
All pictures, graphics and logos used on this site are copyrighted to their respective owners | © w3streams.com