DAILY PICTURES
DAILY DIVERSIONS
DAILY WEB MASH UP
DAILY ALMANAC
DAILY TOP NEWS
Other sites to visit
Photo sharing sites
Kodak Picture of the Day
Ha...
Saturday, 19 Apr 2014
The Cellar - Image of the Day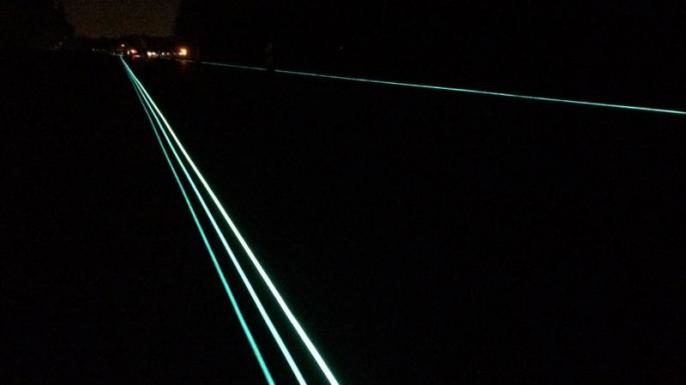 So this is next: glow-in-the-dark highway markers were "lit up" yesterday, as a first test, on a stretch of road in the Netherlands. But there weren't a lot of photos available to make it an IotD! I guess three lines, merging into one for the human eyes, is just not that photographically interesting, or something. I mean, look at it up there. Doesn't look like much. But it is. The photo above comes from Dutch Public Broadcasting, and their story includes a video which tells you a lot more than the picture does. The lines are very bright and clear. I want this on my nearby pikes. The main article on it in the English-reading Internet came from Ars Technica. Their article features a lot of mock-ups of what could be done with luminescence and highways. It's all awesome, and I'm glad this is all coming about as my own aging eyes start to make night driving a chore. Of course, if when the cars learn to drive themselves, none of this will be necessary.
April 14, 2014: Glow-in-the-dark highway lines
FWAPhoto
Christin Malen Andreassen - Fish Head Carpet
@photooftheday - WEBSTA
- 18 apr 2014 Winner @jasonmpeterson Jungle @luka04 Focus on @useroftheday
@photooftheday
- 18 apr 2014 Winner @jasonmpeterson Jungle @luka04 Focus on @useroftheday
8142
67 »WEBSTA
Fstoppers » Picture of the Day
The Palace Guardians
"The shot is done in Paris at Palais de Tokyo on the march 21st 2014. Opalenscence, french fire artist told me that a mexican friend Luis Gomez Islas of her was in Paris and asked me for an epic souvenir picture. For that I have asked her to build a special torch filled with pyro powder that creates amazing flammes. Palais de Tokyo is the fire artist place in Paris with some beautiful sculptures. I have imagined the composition including them and started the picture.I used 2 speedlights with a wireless remote, 1 umbrella (left) and an octobox (right). Setup: Canon 5D (the first one) + 85mm F1.8 The final image is a composite of 2 differents exposition to get details in the flamme, the models and the sculptures."- Frederic AmaduEXIF: 1/1000 F5.6 ISO 400 for the flammes and 1/100 F8 ISO 800WEBSITE FACEBOOK
Wikimedia Commons picture of the day feed
Wikimedia Commons picture of the day for April 19
Picture of the day
Pärispea peninsula, Lahemaa National Park.  
Wikimedia Commons media of the day feed
Wikimedia Commons media of the day for April 19
Media of the day
  Reportage made at the Manufacture nationale de céramique de Sèvres in France, in the Mill workshop, April 25th, 2013 by Lionel Allorge.   Problems playing the file?
More pictures
All pictures, graphics and logos used on this site are copyrighted to their respective owners | © w3streams.com