DAILY PICTURES
DAILY DIVERSIONS
DAILY WEB MASH UP
DAILY ALMANAC
DAILY TOP NEWS
Science
WHOI Image of the Day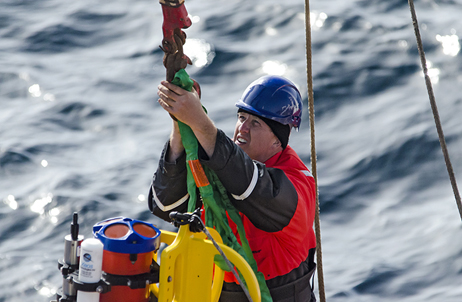 Ready to Go
WHOI technician Steve Murphy prepares a mooring to be lifted off the deck of the British icebreaker James Clark Ross into the water in August. Murphy was part in one of several annual cruises led by physical oceanographer Bob Pickart to study the movement of water through the Denmark Strait. The deep water that flows through the strait forms a large fraction of the lower portion of the North Atlantic Meridional Overturning Circulation, or Great Ocean Conveyor, which is crucial for maintaining Earth's climate. The team on this year's cruise recovered 14 moorings and deployed ten more. (Photo...
(show all)
RedOrbit Images Of The Day - Earth
Namibian Dust Plumes
Dust plumes blew off the coast of Namibia in early May 2013. The Moderate Resolution Imaging Spectroradiometer (MODIS) on NASA's Terra satellite captured this natural-color image on May 5, 2013. Parallel plumes blew toward the southwest, many of them coalescing into larger plumes over the Atlantic Ocean.
The Namib Desert stretches hundreds of kilometers along the Namibian coast. The Kuiseb River marks a significant change in land cover. South of the river, giant sand dunes march northward, driven by relentless winds, but the vegetation along the Kuiseb River provides a barrier to both the ...
(show all)
USGS Earthquake ShakeMaps
6.5 - OFF THE COAST OF AISEN, CHILE
Date: Mon, 20 May 2013 09:49:04 UTC
Lat/Lon: -44.9439/-80.5409
Depth: 10
More pictures
Real time content
In the news
RSS Video News Feed
A new study finds that 'crazy' ants are invading the southeast, and they are reportedly much worse than fire ants.
Hovertrax is the latest wheeled creation from Washington-based company Inventist. It's a small board with wheels on either side, and it's controlled by your feet, allowing you to lean forward to move the same direction.
It's time to get your bluetooth speakers in tune. The Vertus receiver wants to give audiophiles the ability to share their music via bluetooth over not one, but two speakers.
Social networking app 'Where My Dogs At' helps dog-owners find great places to take their pooches. Fellow canine lovers can connect and their pets can make friends with the new app. Users can 'mark your territory' and give the 'paw of approval' to their favorite spots. Gillian Pensavalle has more.
DT Daily: Billions for blogs, Charge a cell phone in :20, Canon 5D hacked
In April, Russian scientists sent mice, geckos, and gerbils into space for a one-month orbit around Earth.
Yahoo's board has approved a $1.1 billion acquisition of Tumblr; Pinterest introduced new pins for products, recipes, and movies; and Bloom.fm tries something different in the music streaming service arena.
Other sites to visit
All pictures, graphics and logos used on this site are copyrighted to their respective owners | © w3streams.com