PICTURE OF THE DAY
Science & Nature
Science picture of the day
Gamma rays from the inner galaxy
News.science360.gov.org
5 Feb 2016
Full Text:
Studies by two independent groups from the US and the Netherlands indicate that the observed excess of gamma rays from the inner galaxy likely comes from a new source rather than from dark matter. The best candidates are rapidly rotating neutron stars, which will be prime targets for future searches. The Princeton/MIT group and the Netherlands-based group used two different techniques...
Gemini South by the full moon
News.science360.gov.org
3 Feb 2016
Full Text:
This picture taken with a fish-eye lens from inside the Gemini South dome shows the telescope nested in its altazimuth mount, pointing just high enough so that its monstrous 8-meter primary mirror is visible. The sky seen through the dome's open vent gates which remain open during observing runs--when winds are relatively light-- to help equalize air temperatures inside and outside th...
Earth science picture of the day
Encore - Bryce Canyon in Winter
Epod.usra.edu
6 Feb 2016
Today, and every Saturday Earth Science Picture of the Day invites you to rediscover favorites from the past. Saturday posts feature an EPOD that was chosen by viewers like you in our monthly Viewers' Choice polls. Join us as we look back at these intriguing and captivating images.
_________________________________________________
Photographer: James Van Gundy
Summary Author: James Van Gundy
Wit...
Alignment of Six Planets
Epod.usra.edu
5 Feb 2016
Photographer: John Chumack
Summary Author: John Chumack
As shown above five planets are aligned across the morning sky, but since you have to count Earth too there are actually six planets nicely lined up. The waning gibbous Moon also joins the planetary parade. For much of February, about an hour before sunrise, Earth will be in just the right position to get a great view of the planets align...
APOD
Five Planets at Castell de Burriac
Apod.nasa.gov
Five Planets at Castell de Burriac
Massive Stars in NGC 6357
Apod.nasa.gov
Massive Stars in NGC 6357
Hubble picture of the day
Monstrous Cloud Boomerangs Back to Our Galaxy
Hubblesite.org
28 Jan 2016
Get larger image formats
The old adage "what goes up must come down" even applies to an immense cloud of hydrogen gas outside our Milky Way galaxy. First discovered in the 1960s, the comet-shaped cloud is 11,000 light-years long and 2,500 light-years across. If the cloud could be seen in visible light, it would span the sky with an apparent diameter 30 times greater than the size of ...
Hubble Unveils a Tapestry of Dazzling Diamond-Like Stars
Hubblesite.org
21 Jan 2016
Get larger image formats
Some of the Milky Way's "celebrity stars" opulent, attention-getting, and short-lived can be found in this Hubble Space Telescope image of the glittering star cluster called Trumpler 14. It is located 8,000 light-years away in the Carina Nebula, a huge star-formation region in our galaxy. Because the cluster is only 500,000 years old, it has one of the highes...
NASA Earth Observatory Image of the Day
Open- and Closed-Celled Clouds over the Pacific
Earthobservatory.nasa.gov
6 Feb 2016

Whether a patch of clouds contains open or closed cells offers a clue about whether rain is falling underneath it.
Mount Erebus, Antarctica
Earthobservatory.nasa.gov
5 Feb 2016

The southernmost active volcano in the world has a molten lava lake at its core.
NASA Earth Observatory Natural Hazards
Bushfires in Tasmania
Earthobservatory.nasa.gov
2 Feb 2016

Fires have damaged prized forests in northwestern Tasmania.
Fire Burns in Mumbai Landfill
Earthobservatory.nasa.gov
1 Feb 2016

Smoke from the blaze streamed into neighborhoods in India's most populous city.
Animal of the day
Naked Mole Rat - More Than Meets The Eye
Thewebsiteofeverything.com
22 Aug 2015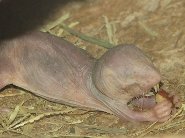 The naked mole rat (
Heterocephalus glaber
) is a rodent, known for its burrowing and is indigenous to East Africa. The mole rat possesses a number of characteristics which allow it to survive in underground and harsh environments.
The average naked mole rat is between 3 to 4 inches (8 to 10 centimeters) in length and weighs between 1.1 and 1.2 ounces (30 to 35 grams). They have small eyes, poor...
Northern Pudu - the World's Smallest Deer
Thewebsiteofeverything.com
7 Jul 2015
The Northern Pudu (Pudu mephistophiles) is the world's smallest deer. This little inhabitant of the Andes Mountains weighs in at only 3 to 6 kg, or 7 to 13 pounds. The Northern Pudu lives and plays across Columbia, Ecuador, and Peru. They prefer to stay in the higher elevations of the Andes Mountain range. Most of them live at least 2000 meters above sea level. The climate here is a temperate r...
Botany photo of the day
More pictures
​