PICTURE OF THE DAY
Science & Nature
Science picture of the day
Beautiful chemistry
News.science360.gov.org
31 Jul 2015
Full Text:
For many, the phrase "chemical reactions" conjures memories of tedious laboratory work and equations scribbled on exams. But Yan Liang, a professor at the University of Science and Technology of China in Hefei, sees art in the basic science. Last September, Liang and a few colleagues launched beautifulchemistry.net to highlight aesthetically pleasing chemistry. They then compiled a vi...
Wildlife's antibiotic resistance in Africa
News.science360.gov.org
30 Jul 2015
Full Text:
Antibiotics are a blessing that can also become an empty promise when microbes grow stronger and become resistant to the arsenal of modern medicine. Globally, the emergence of antibiotic resistance is an important threat to human and other animal health. Monitoring resistance in wildlife can help, scientists say. Water species such as hippos have higher levels of antibiotic resistance...
Earth science picture of the day
Mega-Mosaic of the Tulip Nebula Region in Cygnus
Epod.usra.edu
31 Jul 2015
Image Creator: Greg Parker
Summary Author: Greg Parker
 
The constellation of Cygnus (the Swan) is nicely positioned now for observing in the Northern Hemisphere. This mega-mosaic, high-resolution image shows the Tulip Nebula (just right of center) in Cygnus. The bright star at the lower right of the nebula is SAO69116 at magnitude 3.89 -- visible with the naked-eye from a relatively dark site. ...
Geothermal Features in Yellowstone National Park
Epod.usra.edu
30 Jul 2015
  Photographer: Heather Renyck Summary Author: Heather Renyck
Yellowstone National Park is probably best known for its geothermal features, wildlife and for being home to a supervolcano. The Greater Yellowstone Ecosystem is one of the largest nearly intact temperate-zone ecosystems on Earth. Lesser known, perhaps, is the biogeochemical nature of the park's many hot springs, geysers, fumaroles...
APOD
The ISS and a Colorful Moon
Apod.nasa.gov
Tonight's Full Moon, the second Full Moon in July, could be
Milky Way over Uluru
Apod.nasa.gov
The central regions of our Milky Way Galaxy rise above
Hubble picture of the day
Telescopes Team Up to Find Distant Uranus-Sized Planet Through Microlensing
Hubblesite.org
30 Jul 2015
Get larger image formats
The majority of planets discovered outside our solar system orbit close to their parent stars because these planets are the easiest to find. But to fully understand how distant planetary systems are put together, astronomers must conduct a census of all the planets around a star. So they need to look farther away from the star-from about the distance of Jupiter...
Hubble Sees a 'Behemoth' Bleeding Atmosphere Around a Warm Neptune-Sized Exop...
Hubblesite.org
24 Jun 2015
Get larger image formats
Astronomers using NASA's Hubble Space Telescope have discovered an immense cloud of hydrogen dubbed "The Behemoth" bleeding off a planet orbiting a nearby star. The enormous, comet-like feature is about 50 times the size of the parent star. The hydrogen is evaporating from a warm, Neptune-sized planet, due to extreme radiation from the star. A phenomenon this l...
NASA Earth Observatory Image of the Day
Antikythera Island
Earthobservatory.nasa.gov
31 Jul 2015

A small Greek island with a long history rises from the Mediterranean and Aegean seas.
Snow Drought on Mount Baker
Earthobservatory.nasa.gov
30 Jul 2015

The highest peak in the North Cascades was visibly affected by less precipitation falling as snow in 2015.
NASA Earth Observatory Natural Hazards
Glacier Lake Outburst Flood near Almaty
Earthobservatory.nasa.gov
28 Jul 2015

After a warm spell in Kazakhstan, a glacial lake emptied abruptly and sent flood water rushing downstream.
Fire and Smoke Around Lake Baikal
Earthobservatory.nasa.gov
27 Jul 2015

Wildfires continue to speckle the landscape in southern Russia amid the Northern Hemisphere's 2015 fire season.
Animal of the day
Northern Pudu - the World's Smallest Deer
Thewebsiteofeverything.com
7 Jul 2015
The Northern Pudu (Pudu mephistophiles) is the world's smallest deer. This little inhabitant of the Andes Mountains weighs in at only 3 to 6 kg, or 7 to 13 pounds. The Northern Pudu lives and plays across Columbia, Ecuador, and Peru. They prefer to stay in the higher elevations of the Andes Mountain range. Most of them live at least 2000 meters above sea level. The climate here is a temperate r...
Guatemalan Black Howler Monkey
Thewebsiteofeverything.com
3 Jul 2015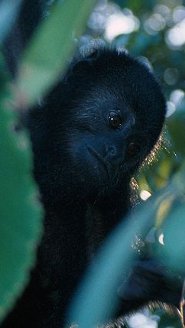 The endangered Guatemalan Black Howler (
Alouatta pigra
) (sometimes called the Yucatan Howler or Yucatan Black Howler) is one of many species of howler monkey, which is what is known as a 'New World' monkey. Its range is throughout the Yucatan Peninsula, and includes the areas of Mexico, Belize, and of course Guatemala. The Guatemalan Black Howler prefers to live in very lush areas, mostly st...
Botany photo of the day
Oenothera elata subsp. hookeri
BotanicalGarden.ubc.ca
30 Jul 2015
I have always thought of the evening primroses as particularly romantic plants. Many of the Oenothera have richly-scented blooms that open in twilight. Their light-coloured petals make them gleam in the dusk light like rising moons. John Rusk's (aka John Rusk@Flickr) photo of Oenothera elata subsp. hookeri captures the romance of Hooker's evening primrose perfectly. Thanks John!
Some sources l...
Kopsiopsis strobilacea
BotanicalGarden.ubc.ca
29 Jul 2015
Today's photo features the yellow morph of Kopsiopsis strobilacea. This Pacific Northwest species is a member of the Orobanchaceae, or broomrape family. Thank you to Alan Tracey, who took this photograph near Selma, Oregon.
Botany Photo of the Day has recently covered another parasite, the mycoheterotrophic Allotropa virgata. Like Allotropa virgata, the non-photosynthetic Kopsiopsis strobilace...
More pictures
​