PICTURE OF THE DAY
Science & Nature
Daily Nature Photo
National Geographic photo of the day
Catch of the Day
Nationalgeographic.com
Science picture of the day
Ancient Maya practiced forest conservation
News.science360.gov.org
Full Text:
This temple in Tikal, labeled "Temple...
Earth science picture of the day
Moonrise Sequence Over the Erie Canal, New York
Epod.usra.edu


Photographer: Carl Crumley
Summary Author:  Car...
Animal of the day
Pacific White-sided Dolphin - Acrobat of the Pacific
Thewebsiteofeverything.com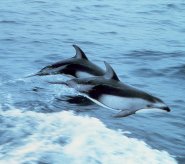 The Pacific white-sided dolphin or "lag" (Lagen...
Botany photo of the day
Greyia sutherlandii
BotanicalGarden.ubc.ca
A quick entry from Tamara Bonnemaison today. Sh...
More pictures